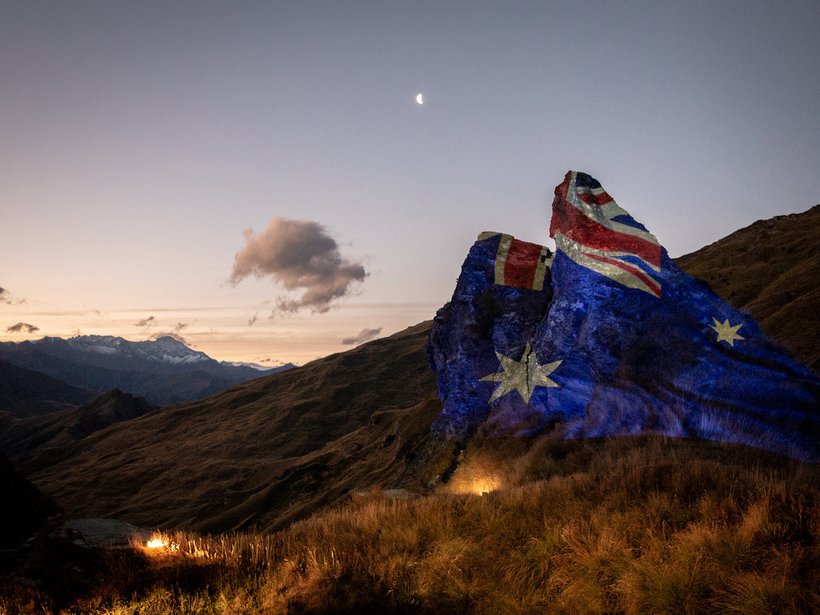 Project Skippy
With the news that a Trans-Tasman travel bubble was about to open, allowing us to welcome our Aussie cousins back to Queenstown, we wanted to jump at the opportunity to do something special and celebrate 'normality' returning to Aotearoa.

Nature is often the source of inspiration here in Queenstown and this project was no different. We knew we wanted to showcase the stunning natural beauty of the southern alps, paired with our technological abilities to create a stunning contrast in the imagery. This one particular rock along the Skipper's Canyon road (New Zealand's most dangerous road) has been on our radar for a while and this seemed like the perfect time to put the wheels in motion.

After battling against some high winds and carrying some expensive equipment across a very windy ridge line, everything was in place to sit back, crack open a cold one and wait for the sun to set on a beautiful evening.

With a project this cool it was a no-brainer to team up with our good friends at Shotover Media to document the process and give everyone a behind the scenes look at how we made this happen. Check out the video below to see the final product!

G'day Aussies! It's great to have you back!

Tech Spec:
Projection - Christie HD14K M
Playback - Resolume Arena 7

Beam Light - Clay Paky Mythos 2