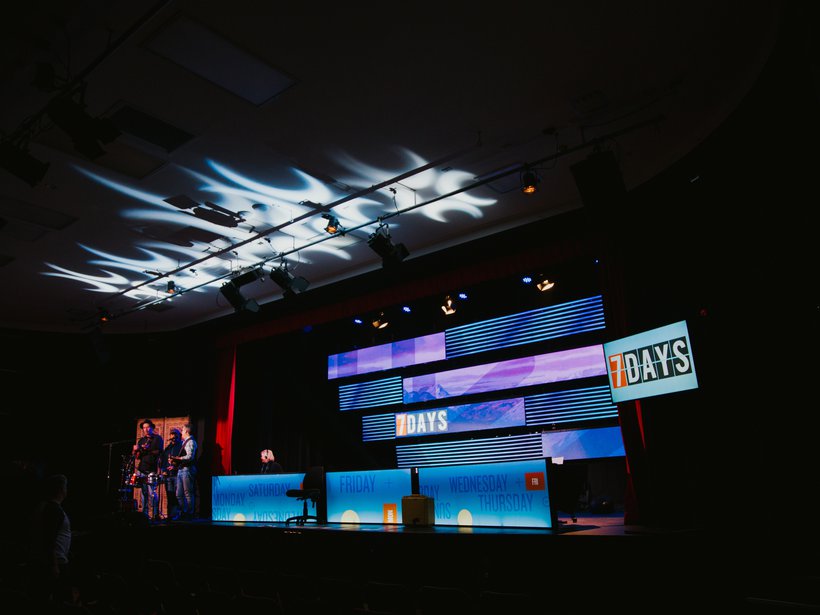 7 Days at Queenstown Winter Festival
Produced by MediaWorks NZ, 7 Days Live is a popular TV comedy show in New Zealand. In June, the show took a road-trip to the Queenstown Winter Festival, on the shores of South Island's Lake Wakatipu, to film a TV special.
The brief was fairly simple, we needed to create background eye candy that looks great on camera, as well as for the live audience, and having the 7 Days logo on the screens for the wide shots.
The design concept was based around mis-matching elements with different LED pixel pitches, to create contrast between the different pixel pitches, we use Martin Sceptron 20 battens in an array to complement the 6mm LED panels and to add horizontal lines to the overall look.
The textures played out on the Sceptron were from stock content, while the 6mm panels showed custom content including Queenstown's iconic mountains, created in house, as well as the 7 Days Live logo where required.
Tech Spec
TopVision 6mm LED Screen
Martin VDO Sceptron 20
Clay Paky Mythos2
Control
Green Hippo Karst Hippotizer V4
High End Systems Hog4