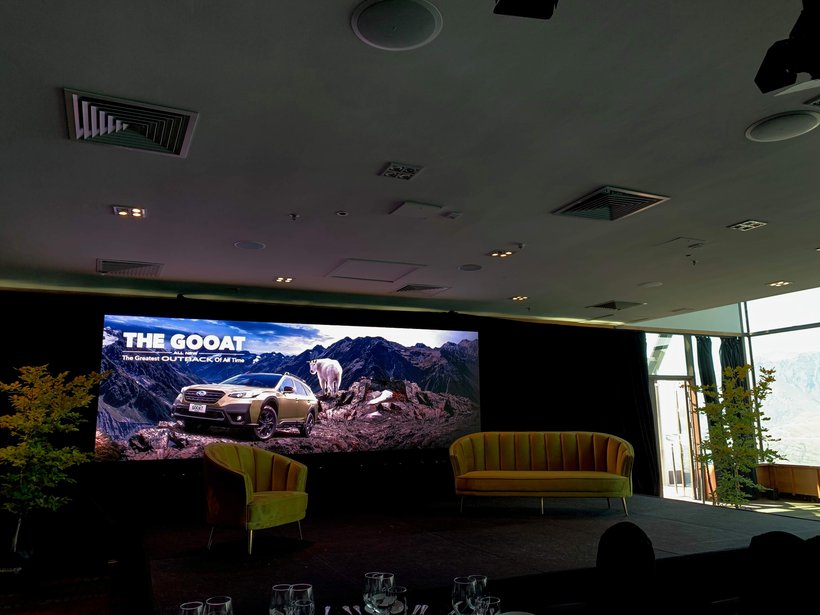 Subaru Outback Launch Event
Using our high-definition 2.6mm screen to help showcase their specially crafted promo material featuring the nights compere Jeremy Wells showing off all of the new cars snazzy new features.
We recommended that they configure the LED wall in a 3:1 aspect ratio, helping to highlight the direct correlation to the panoramic view of the Remarkables outside the Wakatipu Room windows and the mountainous imagery used.
We'll let you decide if it's the 'Greatest Outback Of All Time', but it definitely looked the business on our LED screen!
Here are some kind words from our client;
Hamish and the TomTom Productions team were nothing but fantastic for our new model launch in Queenstown earlier this year. We were after something a bit different with wow factor to provide our guests with an entertaining evening at the Skyline.
Hamish and the team helped bring our idea to life with an excellent concept and even better execution. They created a massive LED screen to showcase our campaign and helped design an 'on the couch' interactive experience for our evening function. Given we were based in Auckland we were concerned about working with a supplier remotely that we had never worked with prior, but through Hamish providing renders of the planned set up ahead of time, it put us at ease. Matt and Benn were extremely knowledgeable and professional, making sure everything during the event went off without a hitch. The team were accommodating for all our needs and made everything happen, and our vision was brought to reality just as we had imagined and more.
Thank you to the TomTom Productions team for helping us make our Outback launch what our guests have called 'the greatest launch ever'.