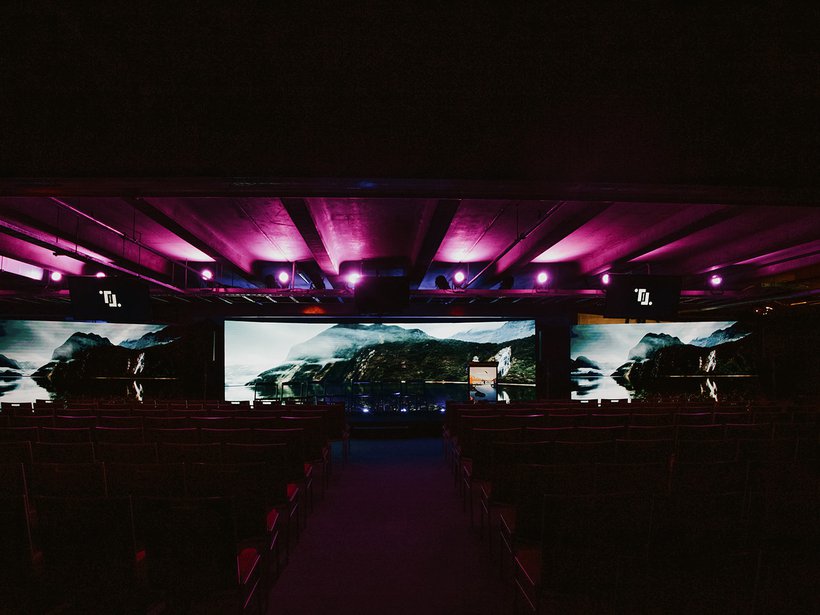 Hilton Carpark
The Hilton Queenstown has a beautiful conferencing facility but no space for expo. So we worked with the team at QT Event Collective & peek exhibition to create a plenary and expo space in the underground carpark.
Biggest challenge being the ceiling height, which doesn't lend itself to easy production rigging we created a ground based stage solution to suit the space.
This featured a 120degree curved LED wall as the stage background, used for textures & standout key messaging. Flanking the stage was our 2.6mm high resolution LED screens for primary presentation.
The key to the success of this conference was the high resolution of the 2.6mm screen, as the guest were seated incredibly close to the stage a lower resolution screen would've looked pixelated and difficult to read. However the 2.6mm gave even the front row crystal clear, crisp presentations to enjoy.
For TomTom it's all about the experience of your audience, from front and centre to the back corner. - and even behind the stage for those tech savvy amongst you!
Tech Spec
VuePix DB series 2.6mm LED Wall
TOPVISION 6mm LED Screen
Panasonic 55" digital displays
Control
Barco S3 4K