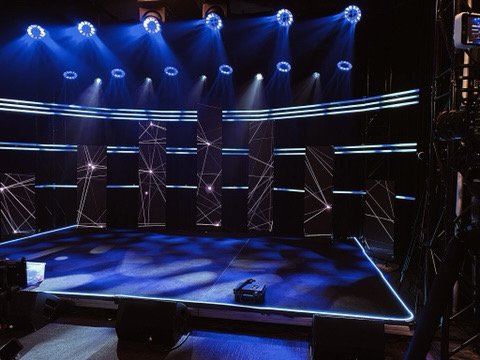 Industrial Sessions
Industrial Sessions, a new live streaming and recording studio in Queenstown, New Zealand.
The studio marks a collaboration among TomTom Productions for lighting, video and setd esign, Soundpeople for audio and multi-track recording, and Shotover Media for camera and direction.
Located in the TomTom Productions warehouse. Our purpose is to bring high-quality live streaming to Queenstown and the world by giving local and national musicians a space to perform and connect with their audience in a time when they can't perform as usual. The space is also used for corporate meetings, a pretty popular usage given the COVID-19 restrictions on gatherings. We do one or two Industrial Sessions a week and convert the space for multi-track recording, webinars and virtual conferencing.
We had to be creative in carving out the studio from warehouse space with low ceiling heights and second-floor support pillars. We built a 3.6 x 5.4m stage inside a 4 x 5.5m truss structure as we don't have the ability to fly from the roof. The video design has a back wall of Martins VDO Sceptron and VuePix DB2.6mm LED panels.
The lighting design is from the stock we own in the warehouse, with 12 Claypaky HY B-EYE K15s and five Mythos2 comprising the base rig and more K15s and Mythos 2 available to create slightly different looks each session. Six K15s are rigged forward of the top chord of the truss on pipe, another six K15s on the bottom front chord and five Mythos 2 in the spaces on the US chord.
Products:
VideoSwitching: Barco S3 4K
Playback: Green Hippo Karst Hippotizer
Main Screen: VuePix DB 2.6mm
Background: Martin VDO Sceptron20
LightingFixtures: Clay Paky Mythos2 & HY B-EYE K15, EK Collider Strobe
Control: High End RoadHog4
Audio: d&b M6 monitor system
Mix: Midas Pro2